Astronomy is at the heart of many early civilizations and one of its most important applications is that of time keeping. We know your year already got started, but it might be worth looking at reviewing your strategic plan, reviewing your M&E plan, reconsidering the list of your stakeholders, reviewing the community of practice you subscribe to, and finally, planning to strengthen your capacity in a specific area of monitoring and evaluation.
In 46 BC, Julius Caesar introduced a 12-month calendar that eliminated the need for additional months. By removing the requirement to keep in step with the Moon, the length of a year could be chosen so that it was very close to that of a solar year. The average calendrical year was 365.25 days (thanks to the inclusion of a leap year every 4 years). Evaluation considers time as a very important tool – may be in terms of program years, months, days, weeks etc. What should you or your office/unit do as we stroll into the first month of a new (program) year?
5 things an evaluator should do in the new (project) year – Consider reviewing your strategic and M&E plans; Reconsider your stakeholder's list and their roles; Become a member of an active voluntary association;
Reviewing your strategic plan
Most organizations devise their own strategic plan, a document that articulates an organization's goals and objectives, the essential steps and actions that need to be taken to accomplish those goals and other important elements that are developed amidst planning. Strategic planning is important, but at the same time can be a complex issue especially for new and small organizations.
Effective strategic planning is a result of disciplined efforts which ultimately define an organization, shapes and guides its activities and functions, classifies its services and the reasons behind its functions and services, along with a strong focus on the future. It communicates the overall journey of an organization, the necessary actions that are needed to be taken for its growth and development and also the ways by which it will assess its progress and evaluate its achievements.
A strategic plan, in reality, is a living document which directs the overall functioning of any organization. Even though it's always multi-year for some organizations, it is important that after every one year, it should be reviewed. As a point of note, there is a linkage between strategic planning and the M&E systems of organization (See image 1 below). This means while strategies are reviewed, there is a possibility that indicators and data are reviewed as well.
Reviewing your M&E plan
An M&E plan should provide background information, define what the M&E system will measure (indicators linked to the objectives of the strategic/program plan being monitored and evaluated), and how the M&E system will operate to enable these measurements to take place. You can find a template for putting together an M&E Plan from our library.
Owing to lessons from the past project year, background information for the project might be reviewed, likewise, the results framework or theory of change which you have put together in the past project year could be adjusted to fit for learnings. People that have taken roles in specific M&E areas would have changed, as such you will need to replace them on your M&E plan. For example, a data analyst could have gotten a promotion to another department or unit, this needs to be reflected in the M&E Plan.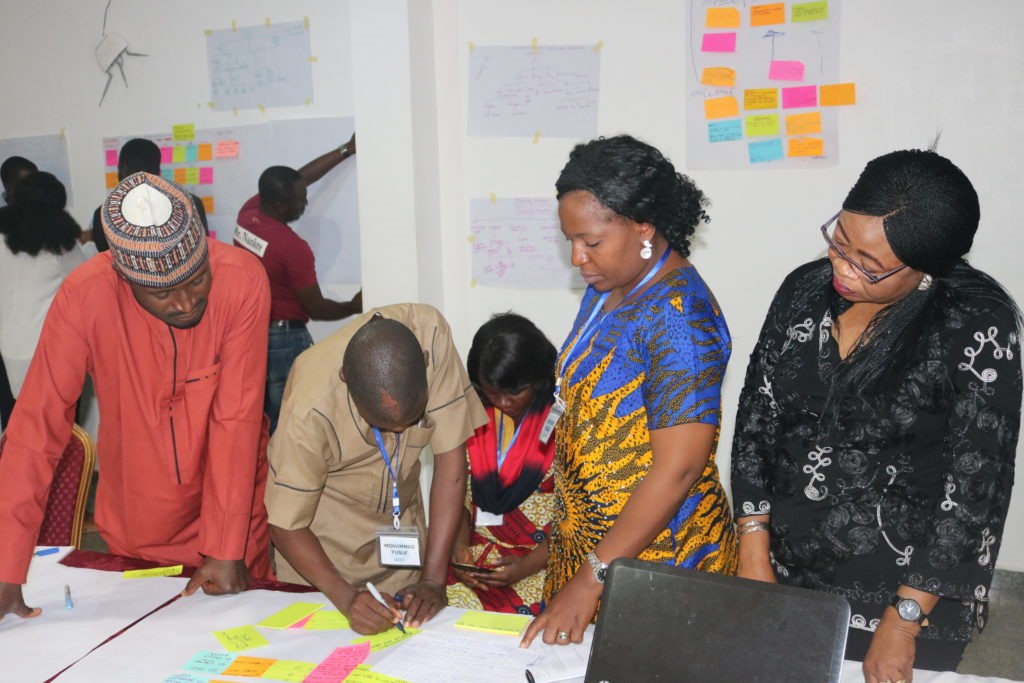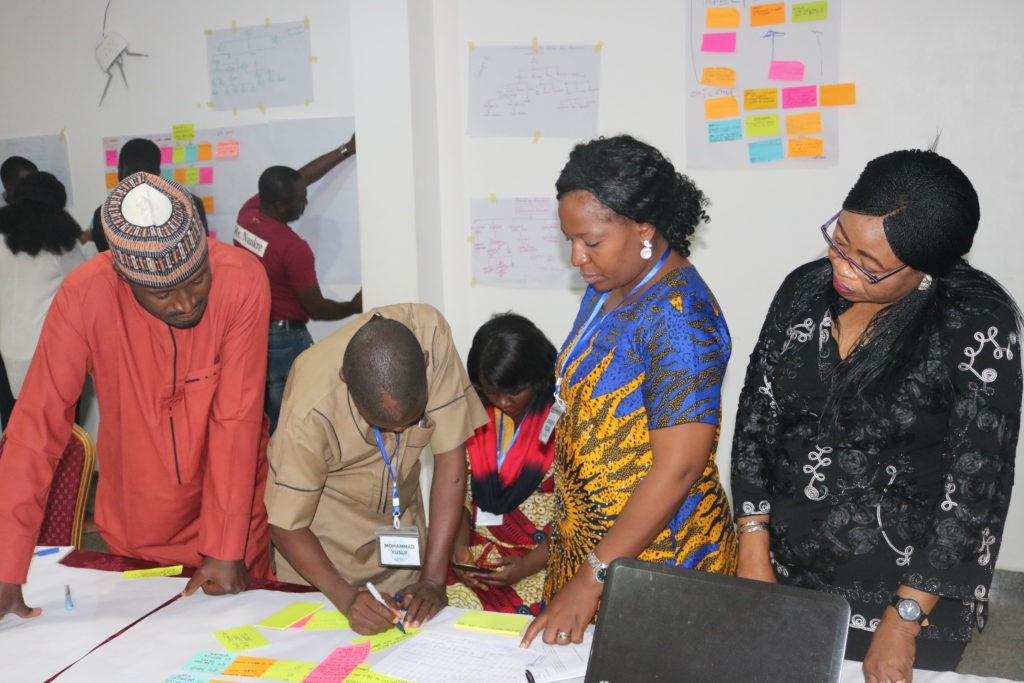 Indicators are usually defined within what is known as a results chain that documents the sequence of results (and, therefore, the sequence of indicators) that need to have been achieved in order for an intervention or a strategy to be successful. Owing to learnings during activities of the project, your organization might want to re-think the indicators you have proposed in the first year of the project. For example, in a project that has the objective of improving the knowledge of smallholder farmers around using new cowpea breeds, an indicator at the output stage might have been numbers of planting tool-kits distributed to farmers. In the previous years, you found out that these farmers are not using the tool-kit but prefer listening to programmes radio . You can then revise your output to be hours of voice-enabled programmes provided for farmers.
Reconsider the list of your stakeholders
M&E departments have stakeholders as an important part of their M&E systems. Consequently, the need to review who the key stakeholders is necessary, and the right time to conduct this review is at the beginning of another project or program year. Stakeholder mapping – usually a table that consists of the categories of stakeholders, and the potential stakeholder roles provide a necessary foundation for effective participation, complemented by strategies to build the capacities of these stakeholders as required. You can download a Stakeholders Identification Tool from our Library.
An initial step in mapping different stakeholder groups is to identify primary stakeholders and their interests and potential roles in developing, implementing, or being an audience for the results of the Monitoring and Evaluation plan. At this time of the year, your M&E department should review the potential roles of the stakeholders by asking which stakeholder helped in achieving what? If we had use an alternative stakeholder, would we have gotten a better result?
Stakeholders can be expected to have a variety of interests and show varying levels of availability and capacity to contribute to monitoring and evaluation functions. Because organizations are dynamic, it might be advisable to review the level of availability of a stakeholder group, or the change in their area of interest.
Subscribe to or review your membership to a community of practice
A community of practice was a term first coined by Etienne Wenger, an education practitioner and academic, who described CoP as "Groups of people who share a passion for something that they know how to do and who interact regularly to learn how to do it better". The successful CoP requires members to be participatory and is essentially led by its members. In the monitoring and evaluation space, the community of practice is referred to as Voluntary Organizations for Professional Evaluation (VOPEs).
According to the international organization for cooperation in evaluation and Evalpartners international mapping of evaluation associations, there are a total of 158 VOPEs, out of which 135 are at national level, while 23 at regional and international level. You and your team should become a member of one in your country, and if you are already a member, you should review your membership. You can view an interactive map of VOPEs around the world here – https://ioce.net/interactive-map. One question might be – has this association given me the opportunity to learn how to do monitoring and evaluation better?
VOPEs play an important role in the evaluation profession. Their contribution is critical in ensuring a truly inclusive consultation and participatory approach. VOPEs also provides a platform for the exchange of knowledge amongst professionals. VOPEs help to foster indigenous demand for and supply of evaluation, including the setting of national evaluation standards and norms.
Strengthen your capacity
The fluid and transient profession of evaluation is dynamic, as such theory of change changes, tools are becoming ubiquitous, and the access to the globalized village allows for continuous adaptive learning. The implication of this is that evaluators must seek to refresh their knowledge and skills on evaluation processes, methods, and tools.
In 2015, the United Nations Evaluation Group and relevant actors designated the year as an International Year of Evaluation, and they committed to supporting member states in building their capacity for evaluation. The Sustainable Development Goals might not be achieved if national, in-country evaluation capacities are not strengthened. As an institution, department or unit, you should have a training plan for your team. There are several institutions, and associations around the world that offers monitoring and evaluation training. You can find a list of some organizations offering training on M&E. You can also opt for a degree in monitoring and evaluation. You can find schools offering M&E as a course in this our resource.
Cloneshouse Nigeria offers an 8-day face-face participatory scheduled course in the month of April, and you can read this resource on lessons from such training, and also getting the best out of a monitoring and evaluation training. Whether it is another program or project year, or your organization's new year, it is important to consider reviewing your strategic and M&E plans; reconsider your stakeholder's list and their roles; become a member of an active voluntary association; and lastly, join a training or mentorship program. What else do you think is important? Please feel free to comment below, while we wish you a happy new (project) year!
References
Wenger E, McDermott R, Snyder WM. Seven principles for cultivating communities of practice. Cultivating Communities of Practice: A Guide to Managing Knowledge. 2002
D Leverington, Encyclopaedia of the History of Astronomy and Astrophysics (Cambridge, 2013)
Rob D Van den Berg et al, Evaluation for Agenda 2030, Providing Evidence on Progress and Sustainability (IDEAS, 2017)
Jody Kusek and Marelize Gorgens, Making Monitoring and Evaluation Systems Work (The World Bank, 2009)
Anne Markiewicz and Ian Patrick, Developing Monitoring and Evaluation Frameworks (Sage Publications, 2016)
************